Welfare risk assessment in different housing systems
The risks to welfare for the main systems of laying hen housing are colour coded according to the 'traffic light system' in Table 7.7. These risks have been assessed by using evidence-based expert opinion from the EFSA report and updated using evidence from our LayWel database. We have included some production parameters that were measured in LayWel studies, and which do not necessarily indicate welfare, but which may be associated with reduced welfare as indicated in WP6. Where there is insufficient evidence to make a risk assessment, cells have been left uncoloured.
Please note that the risk of poor welfare is being indicated. Thus in some cases it is possible for flocks within housing systems where an indicator is coloured red or orange to actually achieve good welfare. The table is not labelling systems as 'good' or 'bad' in terms of welfare.

Welfare in best current practice
Table 7.8 gives figures for some practical welfare indicators in different systems of laying hen housing, using data from replicated recent studies, principally from the LayWel database. Data from studies with fewer than two replicates were excluded, irrespective of the number of birds in the study. It is accepted that some of these figures may be rapidly superseded as system development, management and commercial practice change. For each parameter, the data given are the best values from commercial or experimental studies. Again there are still gaps to be filled in our knowledge of the welfare impact of different housing systems, particularly in terms of bird use of the facilities.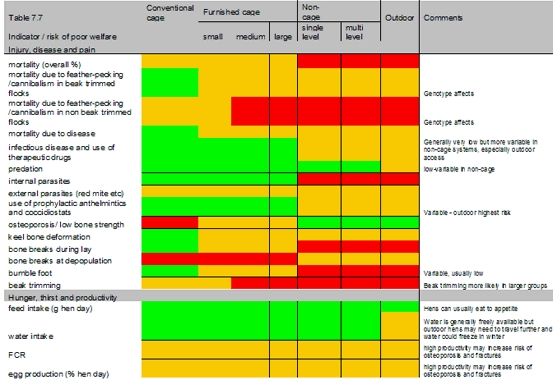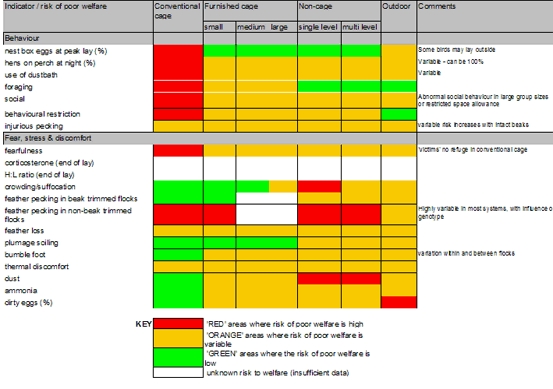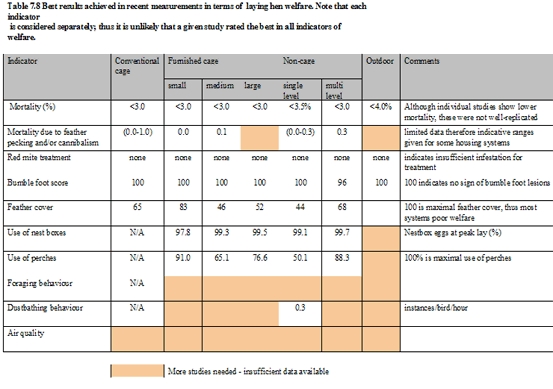 Key welfare indicators
The studies and reviews of the other WPs have found the following list of welfare indicators to currently be the most practicable and relevant for measuring laying hen welfare. These indicators have been frequently measured in studies to date, although it is hoped that future studies will encompass a broader range of indicators. Where possible they are animal-based measures that reflect what is important to the laying hen. Most are robust in terms of reliability and feasibility for measuring in commercial units. By monitoring these indicators hen welfare may be improved if action is taken to improve the underlying problems (some examples are given). These key welfare indicators form the basis for the self-assessment of laying hen welfare on farm (the manual for task 7.2) and are used for table 7.8.

Mortality (in most cases death is the end point of a long period of suffering or sub-optimal welfare and other birds that have not died may be experiencing similar stress – if probable causes of death are established, suitable action may be taken to alleviate the stressful conditions)
Mortality due to feather pecking and/or cannibalism (this abnormal behaviour can spread rapidly through a flock and mortality levels may become excessive without rapid action – in the short term, identifying and removing aggressive hens or dimming the lights may be effective. As part of a flock health plan and good management, choice of appropriate genotypes, diets and enriched environments with good foraging opportunities as well as rearing pullets in suitable conditions should be considered to prevent these problems).
Presence (and levels of) of Red mite infestation (this is an increasingly common problem where affected birds may suffer discomfort, anaemia and weight loss over a prolonged period – thorough disinfection and fumigation of housing between flocks is essential but levels should be continually monitored using traps)
Presence (and levels of) of Bumble foot (which indicate poor hygiene and/or improper perch design – action should be taken to clean perches and to keep hens' feet clean from dirt and faeces - for example by having a slatted or hardcore area around pop-holes or by adding fresh clean litter)
Use of nest boxes (if use of nest boxes is not approaching 100% then design and layout should be altered – it may help to observe the birds – normal nesting is a behavioural priority essential for good laying hen welfare. Pullets should be introduced to nest boxes before point of lay)
Use of perches (perching, particularly at night is normal hen behaviour – if most birds are not perching then perch space or design needs to be altered)
Presence of and use of substrate for foraging and dustbathing (hens need to spend time foraging for normal behaviour and welfare – if a suitable substrate is not provided then problems such as feather pecking and cannibalism can result)
Feather cover (poor feather cover indicates abrasion from fittings and fixtures in the house or more commonly feather pecking from other birds, which is painful and may be associated with fear. Poor feather cover increases heat loss and discomfort in cooler weather, as well as having economic consequences of increased feed consumption)
Air quality (if levels of dust and ammonia are sufficient to be noticeable and irritating to humans then they are likely to cause health problems for birds)
Water intake (high levels of water intake may be associated with heat stress or with boredom in barren housing conditions)
Sudden changes in feed or water intake (these may predict onset of infectious disease for example)
Sudden decreases in production (may be associated with infectious disease for example)
Aspects of egg quality (dirty eggs indicate poor hygiene, red spots may indicate presence of red mite, blood smears can be associated with vent or cloacal pecking damage, calcium spots may be associated with stress)